10 Must-Have K-pop Merchandise from Popular K-pop Groups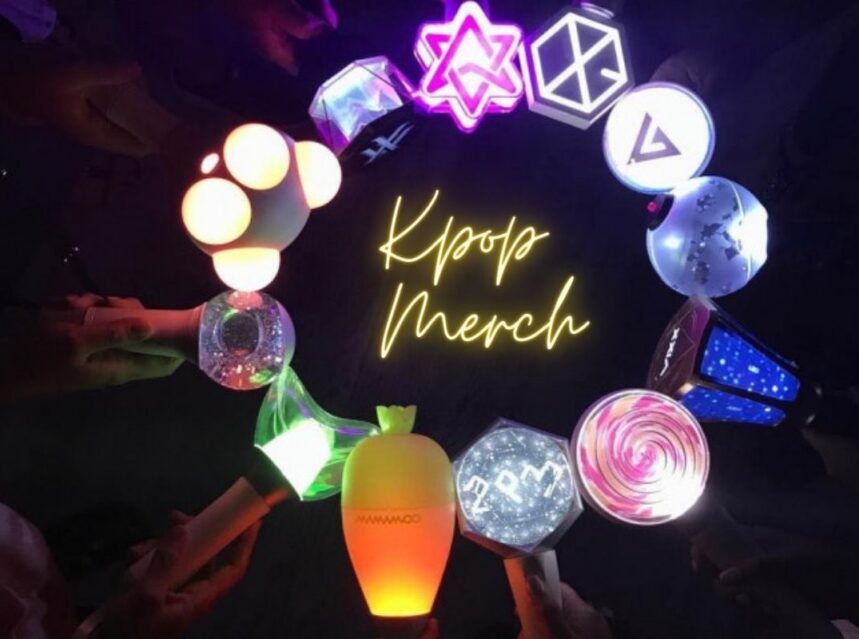 Prepare to be swept away by the irresistible charm of K-pop, the global sensation that has been shaking up the music scene! With its catchy melodies, captivating dance moves, and trendy fashion, K-pop has stolen the hearts of fans worldwide. 
And what better way to express your devotion to your favorite groups than collecting must-have K-pop merchandise? 
In this article, we bring you an exciting list of 10 irresistible items from popular K-pop groups that fans absolutely adore. Get ready to dive into the world of K-pop fashion and fandom!
10 must-have K-pop merchandise 
K-pop Merchandise: BTS Army Bomb
UNBOXING BTS OFFICIAL LIGHT STICK MAP OF THE SOUL SPECIAL EDITION (Difference with Army Bomb Ver.3)
When it comes to K-pop merchandise, there's one name that can't be missed: BTS, the unstoppable force that has taken the world by storm. 
And at the heart of BTS fandom lies a remarkable creation: the BTS Army Bomb. 
This enchanting lightstick is not your ordinary concert accessory – it's a magical extension of the music. 
As the beats pulsate through the venue, fans ignite their Army Bombs, creating a symphony of synchronized lights sweeping the crowd. 
This iconic symbol has become the ultimate emblem of the passionate BTS fandom, lovingly known as ARMY. 
So, grab your Army Bomb and get ready to light up the night with BTS!
K-pop Merchandise: EXO Official Lightstick
♡Unboxing EXO 엑소 Official Lightstick (Version 3)♡
In the realm of K-pop, EXO reigns supreme as a powerhouse, captivating fans with their extraordinary talent. 
And for any devoted EXO-L, an essential accessory shines brighter than the stars: the official EXO lightstick. 
With its sleek and alluring design, adorned with the iconic group logo, this luminous masterpiece is a must-have for every passionate fan. 
But here's the twist: this remarkable lightstick isn't content with just one hue. 
It's a chameleon of colors, allowing you to customize its radiance to match the concert vibes perfectly. 
So, whether you want to bask in a mellow blue or set the stage ablaze with fiery red, the EXO lightstick will be your faithful partner, illuminating your fandom journey the most. 
K-pop Merchandise: Blackpink Photobook
Unboxing 3 Blackpink 4+1 The Album Limited Edition Photobooks
Blackpink is a sensational girl group that has stolen hearts around the globe with its fierce charm and infectious melodies. 
But here's the exciting twist: their magic doesn't stop on stage. Dive into the captivating world of Blackpink with their extraordinary photobook, a treasure trove that unveils the hidden facets of their lives. 
Through breathtaking photographs and exclusive behind-the-scenes moments, this dazzling masterpiece gives fans an intimate glimpse into the lives of their beloved Blackpink members.
It's not just a collectible but a portal that transports you into the heart of their journey. 
So, Blinks, get ready to embark on an enchanting visual adventure as you flip through the pages of this remarkable photobook, forging an unbreakable bond with the sensational world of Blackpink.
K-pop Merchandise: Twice's Candy Bong Z
TWICE (트와이스) 3rd Generation Lightstick CANDYBONG ∞ Unboxing
Among the treasures cherished by Twice devoted fandom, Once lies a sparkling gem: the official lightstick, Candy Bong Z. 
As you hold this enchanting masterpiece, prepare to be whisked away on a whimsical journey. 
Its playful and vibrant design is a feast for the eyes, radiating a kaleidoscope of colors that mirrors the very essence of Twice's music. 
But hold on tight because there's more to this magical wand than meets the eye. 
When the beat drops and the music surges through the air, the Candy Bong Z awakens, syncing its brilliance with the rhythm, creating an awe-inspiring symphony of lights that dances in perfect harmony with the melodies. 
Brace yourself, Once, for a dazzling spectacle that will leave you breathless as the Candy Bong Z illuminates your path in the radiant world of Twice.
K-pop Merchandise: NCT Neo City DVD
NEO CITY : SEOUL – The Origin| NCT 127_Back 2 U (AM 01:27)
NCT is a group that defies conventions with its ever-evolving and versatile lineup. And guess what? 
They've released a collection of concert DVDs; all enveloped in the captivating theme of "Neo City." 
Brace yourself as you plunge into a realm where time stands still, and the pulsating energy of NCT's world tours comes to life once more. 
With these extraordinary DVDs, fans are given a priceless gift—the chance to relive the electrifying performances, the spine-tingling harmonies, and the immersive concert experiences that have left audiences in awe. 
So, surrender yourself to the enchanting "Neo City" world where boundaries blur, and musical dreams become a reality. 
K-pop Merchandise: Red Velvet Official Merchandise
♡Unboxing Red Velvet 레드벨벳 8th Mini Album TRF 2022: Birthday (Recipe, ReVe & Cake Ver.)♡
Red Velvet's merchandise line offers a dazzling array of goodies. 
From coveted photo cards that capture the essence of each member's charm to mesmerizing posters that breathe life into your surroundings, every item is a testament to Red Velvet's enchanting world. 
And that's not all! Show your allegiance to the fandom, ReVeluv, with apparel adorned with the group's signature logo and imagery, letting the world know that your heart beats in sync with Red Velvet's melodies. 
Get ready to embrace a symphony of style and devotion as you immerse yourself in this delightful collection. 
Unleash your inner ReVeluv and proudly showcase your love for Red Velvet with these coveted collectibles destined to brighten your world.
K-pop Merchandise: Seventeen's Carat Bong
SEVENTEEN (세븐틴) Official Light Stick Ver.3 Concept Teaser
Seventeen is a sensational thirteen-member group that harmonizes like no other. And behold their lightstick of wonder: the Carat Bong. 
This magnificent creation is a sight to behold, drawing inspiration from the splendid beauty of a diamond. 
Just as a diamond sparkles with brilliance, so does the bond between Seventeen and their devoted fandom, Carat. 
The Carat Bong is a tangible emblem, encapsulating the precious relationship between artist and fan that glimmers brightly. 
But wait, there's more! This enchanted gem awakens when the stage comes alive, and the synchronized magic begins. 
Syncing with the music, the Carat Bong casts a mesmerizing spell, weaving a tapestry of luminous lights that perfectly harmonize with Seventeen's diverse music styles. 
K-pop Merchandise: Stray Kids Hoodies
Stray Kids "MANIAC" Performance | MTV Fresh Out
Introducing the stylish hoodies brought to life by Stray Kids, adorned with their iconic logo and mesmerizing album-related designs. 
With these fashion-forward garments, fans, lovingly known as Stay, can make a statement while staying warm and cozy. 
It's the perfect fusion of comfort and style, allowing Stay to showcase their unwavering support for their favorite group with every step they take. 
So, embrace the essence of Stray Kids and let their spirit envelop you as you rock these fashionable hoodies and become a trendsetter in K-pop fashion. 
Stay warm, stay fashionable, and stay true to the extraordinary journey of Stray Kids!
K-pop Merchandise: GOT7 Official Poster Set
GOT7 EP 《GOT7》 UNBOXING🎁
Brace yourself for a treat because GOT7 has something extraordinary in store for its beloved fans.
Behold, the official poster set that unlocks a captivating glimpse into the world of each member. 
With these posters, you can witness the dynamic visuals and individual personalities of JB, Mark, Jackson, Jinyoung, Youngjae, BamBam, and Yugyeom come alive right before your eyes. Each poster is a masterpiece, a portal into the realm of your favorite GOT7 star. 
So, let your walls transform into a shrine of admiration as you adorn your spaces with these remarkable posters, breathing life and personality into every corner. 
Immerse yourself in the allure of GOT7, let their charm fill the air, and let the poster set become a window into the boundless world of these extraordinary artists.
K-pop Merchandise: Monsta X Character Dolls
[몬채널][B] EP.367 7th MONBEBE FAN-KIT Behind
Monsta X has something beyond the realm of music to offer. Brace yourself for an irresistible collection of adorable character dolls that will steal your heart. 
Each doll, a tiny embodiment of a member, boasts a unique personality, comes dressed in the cutest outfits, and is accessorized to perfection. 
These delightful companions are not just dolls; they're cherished treasures that ignite joy in every Monbebe, the beloved fandom of Monsta X. 
Imagine a world where you can surround yourself with the enchanting presence of your favorite member. In this world, their captivating music intertwines with the whimsical charm of these lovable dolls. 
Conclusion 
K-pop merchandise is a vibrant and exhilarating realm where fans find solace and express their unwavering support for their favorite groups. 
Throughout this article, we've explored ten must-have items from popular K-pop groups that have captured the hearts of fans worldwide. 
From enchanting lightsticks that illuminate concert venues in mesmerizing harmony to dazzling photobooks that offer intimate glimpses into the lives of beloved idols, each merchandise item holds a special place in the hearts of devoted fans. 
These collectibles allow fans to showcase their passion and connection to their cherished groups and serve as tokens of admiration, creating lasting memories that transcend the boundaries of music.