List for the top 10 most popular K-pop idols in 2023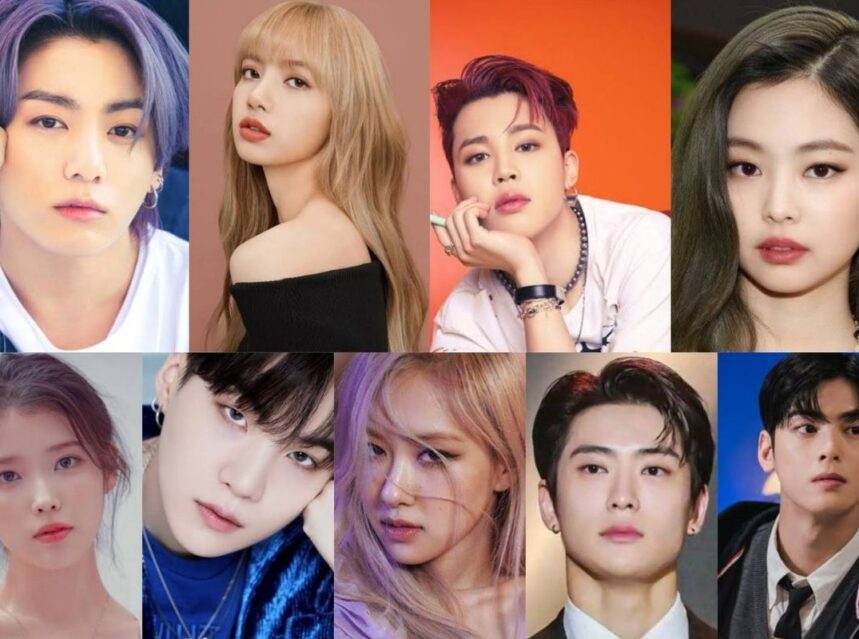 The 2022 K-pop session has just begun. The list has been made, keeping all statistics under consideration, and this article has been made via K-pop enthusiasts and was penned down with good effort and faith.
With K-pop being the talk of the town, it is not surprising that more people are inclined toward K-pop Idols, and this article marks the most significant influence in K-Pop 2022 segment.
Also Read: TWICE Vs BLACKPINK: The Ultimate battle Between the biggest Kpop girl bands
If you've been a K-pop enthusiast, this list is for you. Find out which K-pop Idol smashed the maximum number of likes in 2022 and who will be the most popular female K-pop Idol in 2022.
This post will answer all your answers for the K-Pop 2022 segment. That said, here is our list of the top 10 most popular K-pop idols in 2023.
1. BTS V (most searched K-pop Idol in 2022 on Google)
Winter Bear by V
Kim Taehyung, also known as V, is one of the talented vocalists of BTS and has the most comprehensive vocal range in K-pop. He is the most popular K-pop idol and most loved celebrity right now, without a doubt. He has gained the fastest 1 m and 10 m followers in Instagram history and got two GUINNESS WORLD RECORDS for himself.
As of now, he has 33 million followers, which is the fastest in Instagram history. He is also known to have an enormous fanbase for K-pop. He is also a fashionista, a sold-out king, and known as one of the best stage performers.
He is also considered the most handsome man worldwide. His latest single, "Christmas Tree", made it to the Billboard Hot 100. He is the most searched Asian on Google. He has the most liked picture on Instagram for an Asian.
2. BTS JUNGKOOK (Golden Maknae of BTS 2022)
Jungkook (BTS) "10000 Hours" Lyrics
JUNGKOOK, also known as Golden Maknae, is a talented vocalist of BTS. He is second on our list, and he is viral thanks to his dancing and singing talents. He sells out whatever he wears.
He has billions of views on TikTok. He is the most searched Idol on YouTube. He is known to have a strong fanbase. His recent cover on Harry Styles falling was hugely loved and adored by fans.
3. BLACKPINK LISA (Most followed K-pop Idol on Instagram in 2022)
LISA – 'LALISA' M/V
Lisa is the youngest member of Blackpink. She is the most famous member of her group. Lisa, as of now, is the most followed K-pop idol on Instagram.
She released her solo album last year. And is a successful soloist. Her song money went viral on TikTok and was immensely loved by fans all over. She was also chosen the most beautiful woman last year.
4. BTS JIMIN (Top Idol on BR rankings in 2022)
BTS (방탄소년단) 'Filter' by Jimin FMV
Park Jimin is a talented member of BTS. Known chiefly for his dancing skills, he is a critically acclaimed dancer. He is a vocalist and a talented dancer.
He often tops brand reputation. No doubt he has a solid fanbase and is one of the popular idols. This member of BTS has a soothing voice and a doll-like face. Apart from his appearance, JIMIN is also known for being kind at heart and one of the most entertaining Idol in 2022.
5. Blackpink Jennie (2nd most followed K-pop Idol on Instagram)
JENNIE – 'PRICELE$$' M/V
The vocalist and rapper of BLACKPINK, Kim Jennie, is the second most popular BLACKPINK member.
She is the 2nd most followed K-pop idol on Instagram and one of the most known fashionistas in the K-pop community.
She is called the IT girl of K-pop because of her raving fashion sense and brilliant stage appearance.
6. IU (best K-pop soloist in 2022)
[MV] IU(아이유) _ Celebrity
IU is one of the most well-known and best-selling solo artists in the Korean entertainment industry, where K-pop groups steal all attention.
She has got seven Daesang awards, the most prestigious awards in the country's music industry; she has been nominated more than two hundred times and won more than 90 of all nominations.
Forbes Korea Power Celebrity List recognized IU as one of the most influential people in the country, and IU played lead roles in such high-rated Korean dramas.
7. BTS SUGA (best K-pop rapper in 2022)
Agust D '대취타' MV
Hugely talented rapper and producer. There are many hits of the band and collaborations with world-renowned artists under his belt.
The rapper also releases songs under the pseudonym AgustD. In 2020 he released the successful solo track "Daechwita" and entered the Billboard Hot 100.
Fans worldwide go crazy for his rap, and this Idol can pull off two different personas for his two separate careers.
8. Blackpink Rose (best K-pop influencer in 2022)
ROSÉ – 'Gone' M/V
The member of Blackpink is a smoothing vocalist. She is a talented dancer. She made it to our list at 8, and she is one of the most popular K-pop idols, without a doubt.
Last year, she released her solo album, which got her an entry into the Billboard charts and was hugely loved by critics and commercial hit.
She is also a known fashionista like her other bandmates, and she is the brand ambassador of top brands in the world.
9. NCT Jaehyun (most sophisticated K-pop member in 2022)
Cover | JAEHYUN – I Like Me Better (Lauv)
He is a South-Korean singer-songwriter and actor. He is best known as a member of the South Korean popular boy group NCT and its sub-units NCT U and NCT 127.
In October 2019, Jaehyun became one of three MCs for SBS INKIGAYO, alongside Minhyuk of Monsta X and Naeun of April.
On September 4, 2020, he confirmed that he would make his acting debut, which will be released in the future.
10. Astro's Cha Eunwoo (best Idol turned actor in 2022)
여신강림 OST Part 8 (True Beauty OST Part 8) "차은우 (CHA EUN-WOO) (ASTRO) – Love so Fine" MV
Eunwoo ( Lee Dong-Min ) has dominated several areas of the entertainment world! Not only is his career as an artist thriving, but also his career as an entertainer and actor!
He debuted as a sub-vocalist and visual of the popular K-pop group, ASTRO.
Soon after, he started acting and starred in a popular television drama named The Best Hit in 2017, followed by My ID Is Gangnam Beauty and Rookie Historian Goo Hae-ryung.