Top 7 October K-dramas that you shouldn't miss this winter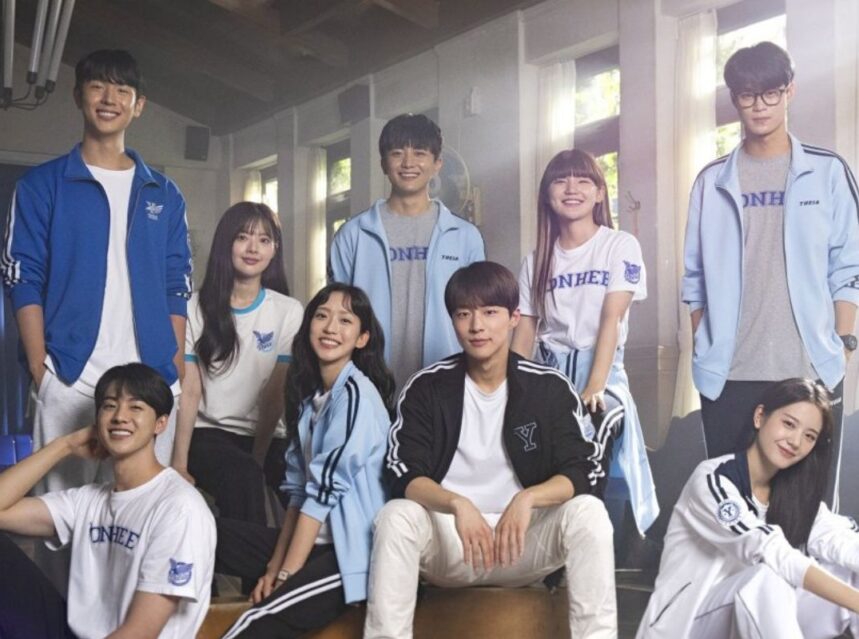 Hey, you! 'Cheer Up!' as a 'Glitch' will happen to your planned schedule. Because from the next month onwards, quite a few of the much-anticipated shows of your choice will be in your planned schedule. Ready to change your schedule but haven't yet done it? Look at these upcoming K-dramas in October and pick up one on your list. 
Top 7 upcoming K-dramas in October 2022
Cheer Up!
Cheer Up • Teaser l Can these college freshmen find love and cheering? [ENG SUB]
A Korean Drama series focuses on the character Do Hae-Yi, who joined a 50 years old cheering squad, Teyia, at Yeonhee University. Her entry into the club is to lessen the severe economic crisis that their family is facing. Being an academic and bright student, she continued her studies even after facing financial problems at home. 
However, many things change for her, in fact, especially for her after going there. 
She meets Park Jung-Woo, Jin Sun-Ho, Tae Cho-Hee, Joo Sun-Ja, and Bae Young-Woong (former member and alumnus of the university). 
Starring Han Ji-Hyun, Bae In-Hyuk, Kim Hyun-Jin, Jang Gyu-Ri, Lee Eun-Saem, and Yang Dong-Geun, this show will surely be going to win the heart of teens. 
The drama will be released on and from October 3 on SBS.
ALSO READ: 12 Korean Drama OSTs That Every Kdrama Enthusiasts Know By Heart
The Witch's Game 
https://www.youtube.com/watch?v=m82rKVlQ28M
The Korean Romance Drama glorifies motherhood and women in general and depicts revenge. 
Directed by Lee Hyung Sun, the story of the drama revolves around a psychological concept, i.e., a confrontation. It is the confrontation of two mothers and daughters who have sacrificed to a great evil. 
The plot then continues to depict how those characters manage to punish the great evil. 
This show will be aired on Monday, Tuesday, Wednesday, Thursday, and Friday for 35 min from October 3, 2022, to March 17, 2023. 
Love That Will Freeze to Death
https://www.youtube.com/watch?v=cYAao9-gyWw
Also known as 'Icy Cold Romance' or 'Love Is for Suckers,' this rom-com stars Lee Da-hee and Choi Si-won. 
Two 30 years old people unexpectedly meet each other after 20 long years. 
They meet on a reality dating show, and it shows that both have romantic feelings for them. 
Choi Gyu-Sik directed drama, distributed by SkyTV, will be released on October 5, 2022, on Wednesday and Thursday at 21:00 (KST).
Bad Prosecutor
(Teaser Ver.2) Bad Prosecutor | KBS WORLD TV
Starring Doh Kyung-soo and Lee Se-hee. Bad Prosecutor is about the Prosecutor who punishes the corrupted power with trickery and practical help.
Doh Kyung-soo can be seen to be the prosecutor as Jin Jung and Lee Se-hee as Shin A-ra, the senior prosecutor, along with the suporting actors Lee Si-eon, Ha Jun, Kim Sang-ho, Kim Tae-woo, Yeon Jun-seok, Joo Bo-young, Lee Hyo-na, Choi Gwang-il, and Yoon Jung-seop.
This show is planned to be released on KBS2 on October 5, 2022, every Wednesday and Thursday at 21:50 (KST).
Glitch
Glitch | Official Trailer | Netflix [ENG SUB]
Hong Ji-Hyo is a girl from a well-to-do family. She has a balanced life with a steady job and a boyfriend. 
However, unstable events begin to occur in her life from the night her boyfriend disappears. While searching for him, she discovers the covered secret with the help of the UFO watchers' community. 
Roh Deok directed show stars Jeon Yeo-been as Hong Ji-Hyo and Nana as Heo Bo-ra. The show is scheduled to be aired on October 7, 2022, on Netflix.

ALSO READ: 10 Korean Dramas With No Romance To Kickstart Your K-drama Journey
Vengeance of the Bride
(Teaser) Vengeance of the Bride | KBS WORLD TV
Eun Seo-Yeon, a pleasant woman, leads her healthy life by running a business producing cosmetics and selling them online. In a make-up salon, she also works as a staff. 
One day she learns that their family friend Kang Baek-San, who runs a large cosmetics company, is actually held responsible for her parent's death. To avenge her parent's death, she marries his son Kang Tae-Poong. 
The show with suspense has booked to be released on October 10, 2022, and will continue till 2023 on Monday – Friday at 19:50. 
The Queen's Umbrella
https://www.youtube.com/watch?v=SAlyRsCAJQ8
Aside from the rom-com and suspense, this Netflix K-drama has made its ground. 
This historical drama talks about the troublemaking princes for whom their mother or the Queen lives in misery. 
However, for the sake of her children, she accepts all the pain. However, this Queen is not like any other; she is very hot-tempered. 
Directed by Kim Hyung Shik, the show stars Kim Hye Soo. The 16 episodes drama will begin on October 15, 2022, and will be continued till December 4, 2022, with 60 mins approx runtime. 
ALSO READ: Best Kdrama on Netflix: Most popular South Korean Dramas on Netflix Today (2022)