12 K-Pop Idols Who Are Not Korean Citizens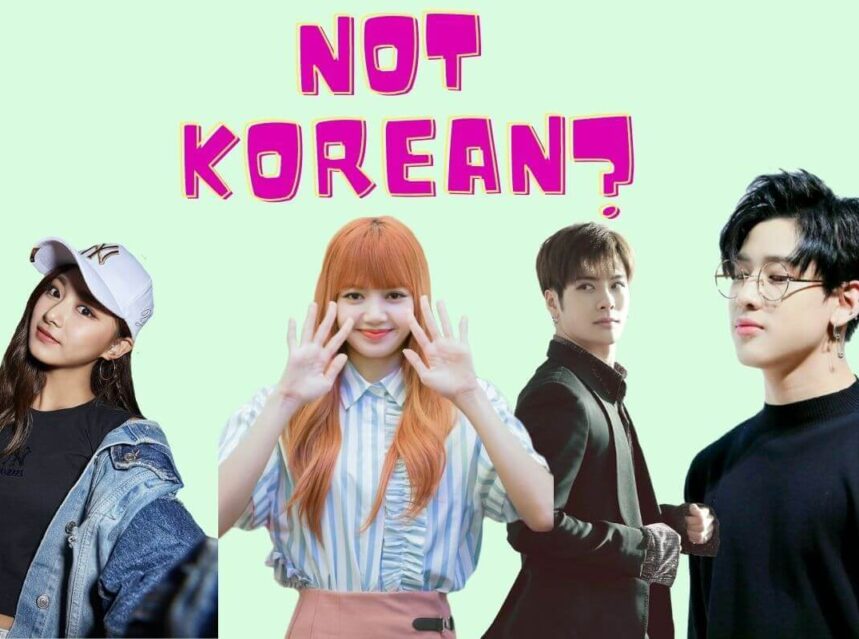 Kpop is Korean music, but some artists/idols don't belong to Korea, and some don't even speak Korean. However, this doesn't stop these idols from achieving their dreams. While they don't speak Korean or fit in particular strata, they have accomplished their goals with hard work, passion, and Korean language lessons. Below is a list of Kpop idols who're not Korean by birth but managed to steal the hearts of thousands of Kpop fans from around the world.
ALSO READ: K-pop Concerts 2022: ATEEZ, Monsta X, and TWICE announce K-pop World Tours 2022
Kpop has overcome boundaries, language barriers, and sometimes, the unimaginable happens. The following Non-Korean idols are no less than miracles because they worked hard to fit into the Kpop lifestyle and become who they are today with sheer passion and the love of their fandoms. If you're into Kpop and want to know what race, country, and region your favorite Kpop idol belongs to, then you've visited the right page at the right time. With that being said, here are 12 Kpop idols who are not Korean citizens.
BLACKPINK Lisa- Thailand
LISA – 'LALISA' M/V
Lisa was born in Buriram province of Thailand and relocated to Bangkok when she was three years old. SBS Cultwo Show reports that Lisa is an only child in her family. She is a pianist and a guitarist. Marco Brüschweiler is Lisa's stepfather and a prominent Swiss chef in Thailand.
Pranpriya was her previous name, but later her name was changed to Lalisa. (The word "Lalisa" means "praised one.") In the YG Audition in Thailand in 2010, she was the sole participant to get accepted. She was a member of the dancing team We Zaa Cool alongside GOT7's BamBam as a kid. Before debuting as a Kpop Idol, Lisa trained for five years under YG Entertainment.
GOT7 Bam Bam- Thailand
뱀뱀 (BamBam) 'riBBon' MV
GOT7 debuted in 2014 with their hit single "Girls Girls Girls" Since then, they are giving hits after hits without stopping. The group consists of 7 members. Among them, Bam Bam was born in Bangkok, Thailand. In 2007, he won first place in a dance competition in Thailand. Bambam is the Global Ambassador for the NBA's Golden State Warriors on January 8, 2022.
In Thailand's "LG Entertainer" competition, Bam Bam participated and came second and soon joined the JYP as a trainee. He is fluent in Thai, Korean, and English. Since Bam Bam is trilingual, he had no issues while interacting with fans who speak Korean, English, and Thai. In other words, GOT7 has members who can speak, write and understand three different languages without any problem.
GOT7 Jackson- Hong Kong
Jessi & Jackson(GOT7) – NUNU NANA I KBS WORLD TV 201218
GGOT7 has another member who doesn't actually belong to South Korea. After Bam Bam, the other member who belongs to a different country is Jackson. Jackson, along with other nationality members, gives diversification to Kpop, making it more accessible to people who live in different parts of the world.
Jackson wJackson was born in Kowloon Tong, Hong Kong, but grew up in Sha Tin District, Hong Kong, China. He completed up to the 11th grade at American International School. Jackson's demeanor is serious but fun, and the 28-year-old idol never gives up on anything he truly desires. Out of all the GOT7 members, he is the most outspoken and sassy.
TWICE Tzuyu- Taiwan
TZUYU MELODY PROJECT "ME! (Taylor Swift)" Cover by TZUYU (Feat. Bang Chan of Stray Kids)
TWICE is undoubtedly one of the most successful girl groups in Kpop. These nine girls have achieved so much success in a short amount of time that it is commendable to see them grow. Among the members, Tzuyu was born in Tainan, Taiwan. The talent scouts discovered her at the MUSE Performing Arts Workshop in Tainan in 2012.
In November of the same year, she moved to South Korea to begin her K-pop training. She was chosen as one of tIn November of the same year, she moved to South Korea to begin her K-pop training. After her training, she was chosen as one of the nine members of the girl group TWICE. She trained for more than two years before appearing on the South Korean reality program Sixteen in 2015. Tzuyu made her TWICE debut with the extended play (EP) The Story Begins on October 20, 2015.
Stray Kids Felix- Australia/South Korea
FELIX HAS DEEPER VOICE THAN THE OCEAN COMPILATION
Felix is known to have one of the unique voices in Kpop. His deep narrative-style voice gives the group a special character, making them one of the best 4th generation Kpop groups. Along with Bangchan, Han and Seungmi, Felix can also speak English and looks confident while giving interviews in the language. Felix's parents are Korean, but he was born in Sydney, Australia.
Felix is a 3rd-For those who don't know, Felix also holds a 3rd-degree black belt in taekwondo and has won several awards. (In Seoul, pops) He enjoys swimming as well. In the 2015 Swimming Carnival, he placed second in the 15-year-old division. He went to St Patrick's Marist College, a Catholic private school in Sydney. He trained for one year before debuting in 2017.
TWICE Mina- Japan
[4K] 211225 1, 3, 2 트와이스 미나 직캠
In the current Kpop generation, there are a lot of Japanse Idols who shifted from Japan to Korea. TWICE is a powerful girl group with two of its members from Japan only. Along with Momo, Mina is another Idol who belongs to Japan but debuted as a Kpop idol with the group TWICE.
In 2014, Mina entered the trainee program in South Korea after auditioning at a JYP audition in Japan. According to sources, Mina was born in San Antonio, Texas, United States, although her parents are Japanese. While she was out shopping with her mother, Mina was cast for JYP. She was the member with the least training period before making her debut in the group TWICE.
TWICE Momo- Japan
MOMO Performance Project
The following Idol on our list is Momo Hirai, popularly known as Momo. She is the third member from TWICE who belong to Japan but debuted in a K-pop group led by JYP Entertainment. Momo was born in Kyotanabe, Kyoto, Japan, on November 9, 1996. She began dancing at an early age, chose to become a singer after seeing Amuro Namie, and discovered K-pop after seeing Rain and Lee Hyori.
Throughout her childhood, Momo attended the Step Out Dance Studio and was discovered by JYP Entertainment when they viewed a dance video of her and her elder sister. Since then, the 25-year-old Idol has been breaking records after records with her all-girl group TWICE. TWICE and three other Kpop groups have announced their 2022 Kpop concerts, so check them out.
TWICE Sana- Japan
TWICE(트와이스) SANA MELODY PROJECT
Sana is the third member from TWICE who is Japanese. She was born Tennōji-Ku, Osaka, Japan. Sana's Kpop journey is not less than any fairy tale. According to sources, Sana got an offer to be cast in the group while shopping with her friends. However, many Kpop members got to cast this way, including the older generation of Kpop idols and the young generation of Kpop idols.
After signing up for the offer, she passed the audition on April 13, 2012, and has been an active member of all girl-group TWICE. Additionally, you would be surprised to know the "100 Most Beautiful Faces of 2017" rated Sana 21st. TC Candler's "The 100 Most Beautiful Faces of 2018" lists her as number 46. She was also the host of the 2019 New Year's Special of the Idol Star Athletics Championship.
TXT Huening Kai- South Korea/USA/Germany
https://www.youtube.com/watch?v=JwDHvwhRSsw&ab_channel=kittyhyunz
TXT consists of five members – Yeonjun, Soobin, Beomgyu, Taehyun, and Huening Kai. All the member are equally talented and performs for a global audience. The group debuted on March 4, 2019, with their first EP 'The Dream Chapter: Star. Since then, TXT has been at the top of the charts of modern Kpop and has received admiration for its visuals and music video concepts.
On January 15, 2019, Hueningkai was announced as the third member of TXT, an all-boy band created by Big Hit Entertainment. Among the members, Huening Kai was born and lived in Hawaii, USA. He is the maknae of the boy group and has been the center of attention in English interviews and public speaking. If you haven't checked out TXT yet, you can visit here to see our review of The Chaos Chapter: Freeze Album.
BLACKPINK Rosé- South Korea/ New Zealand
ROSÉ – 'On The Ground' M/V
BLACKPINK is among the top 5 all-girl Kpop groups in Korean pop music. The final member to be unveiled in BLACKPINK was Rosé. Among the four members, Rosé was born in Auckland, New Zealand, and reared in Box Hill, Melbourne, Australia, where she attended Canterbury Girls Secondary College. After her debut, Rosé relocated to Korea in 2012 and has been living as the member of the fourth member of BLACKPINK.
During her early days, Rosé came in top place at the YG auditions in Australia. She is fluent in Korean, English, and Japanese. Rosé trained for four years and two months before making her debut as a Kpop Idol. Rosé is also known as "Blackpink's Goddess." She has a distinctive voice, and her tiny waist has made her one of a kind. As fans have spotted in her IG Live, Rosé is also a pianist and a guitarist.
NCT Renjun- China
Cover|RENJUN – FOOLS (Troye Sivan)
NCT has by far the most extensive number of members accounting for a total of 23 members in a single Kpop group. Their on-screen chemistry and energy are something that you have to witness yourself. The group first debuted on April 9, 2016, with their first sub-unit NCT U featuring two singles – The 7th Sense" and "Without You." Since then, the group has been a fan favorite of people who like modern Kpop.
Among all the 23 members, who belong to Korea and different parts of the world, Renjun was born in Jilin, China, on March 23, 2000, making him 22 years old in world age and 23 years old in Korean age. Renjun spent his childhood in the Chinese province of Jilin, a dedicated area where many Koreans reside. Renjun is well versed in Mandarin, Korean, and English.
Seventeen Joshua- South Korea/USA
Joshua being Joshua for 7 minutes straight [Seventeen]
Seventeen is probably the only Kpop group that works on its own. Though many agencies have backed them, their concepts, songwriting, choreographing, and other aspects are carried out by the group members only. The group consists of 13 members – S.Coups, Jeonghan, Joshua, Jun, Hoshi, Wonwoo, Woozi, DK, Mingyu, The8, Seungkwan, Vernon, and Dino.
Joshua is often highlighted among this talented crew for being born in the USA. According to the official reports, Joshua was born in Los Angeles, California, US. He shares the exact birthdate (and even the same year) as V from BTS. In 2013, Joshua began his training with Pledis Entertainment. He spent two years and two months as a trainee before making his debut as a Kpop Idol.
ALSO READ: 15 must-watch Korean drama of 2021-2022 so far