"The Uncanny Counter Season 2 Episode 12: Release Date, Plot and more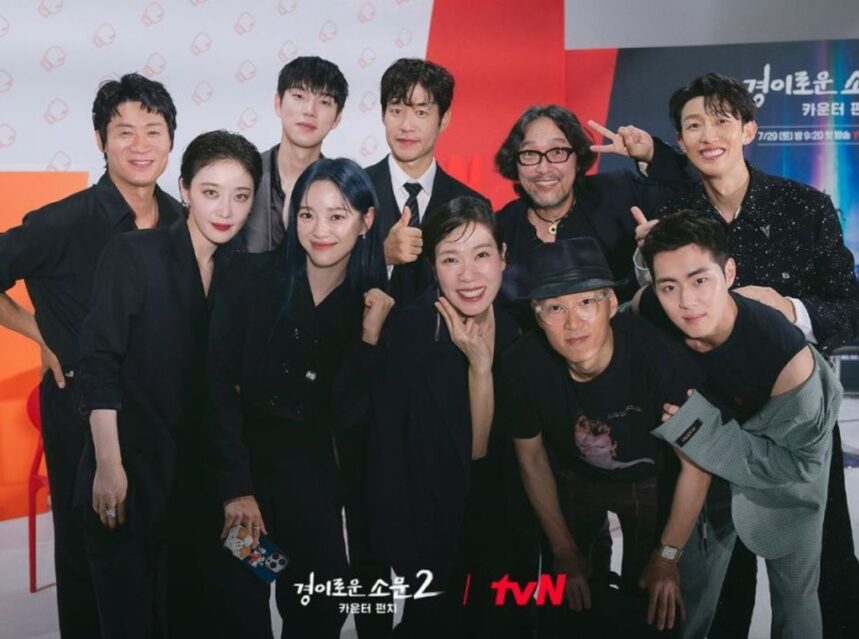 Prepare yourselves for an unforgettable ride as we delve into the thrilling climax of Uncanny Counter Season 2 Episode 12.
The second season of this spellbinding K-drama has taken fans on a tumultuous journey filled with supernatural battles, heartwarming moments, and unexpected twists.
In a storyline that closely follows its predecessor, Season 2 finds malevolent spirits once again threatening the very existence of humanity.
Counters, ordinary-looking individuals possessing extraordinary supernatural abilities, discreetly pose as employees in a modest noodle restaurant, all the while shielding the human world from these nefarious forces.
Throughout the season, the malevolent spirits' power and challenges have grown stronger, pushing the Counters to their limits as they fiercely defend humanity.
With ten episodes already in the books, viewers have witnessed the Counters grappling with their most formidable challenges to date.
In the latest episode, the stakes reached a fever pitch, leaving our heroes' fate hanging in the balance.
The Uncanny Counter Season 2 Episode 12: What we know so far!
The episode kicks off with Ju Seok, immersed in memories of his deep bond with So Mun. As So Mun remains unconscious, Ju Seok's concern for him deepens.
A chance encounter with Pil Gwang takes an unexpected turn when Gwang expresses disinterest in Ju Seok's quest for revenge, instead choosing to attack him in a bid to acquire his powers.
In a twist of fate, Mun awakens, activating the territory and enabling Ju Seok to absorb its powers, effectively turning the tables on Gwang.
This leaves Gwang consumed by envy, wondering why he cannot possess Ju Seok's newfound abilities.
Meanwhile, the other Counters rejoice as Wi-gen returns, and So Mun shows signs of improvement.
They celebrate his return with a heartfelt meal, showering him with care and affection, reaffirming their unwavering support.
During their conversation, Mun learns of Ju Seok's visit to his grandmother, piquing his curiosity about their connection.
Despite Ju Seok's confession to Mun's grandmother, she still perceives him as an angel sent by her daughter, adding a layer of complexity to their relationship.
Elsewhere, Mo Tak strategically employs Chung Jae to reach his primary target, Ju Seok.
This maneuver proves successful when Ju Seok accompanies Chung Jae to Min Ji's memorial, and his mother senses his intent to take his own life. She temporarily intervenes, preventing him from carrying out his plan, but an evil spirit residing within him takes control, putting his mother in grave danger.
Just in the nick of time, So Mun arrives to rescue her, but his activation of the territory backfires as the malevolent spirit absorbs its power. Before further harm can be inflicted, Ju Seok regains control and flees the scene.
Shockingly, the revelation that Gwang is the mastermind behind these events remains concealed from Ju Seok.
However, Gwang takes to the airwaves to confess to Min Ji's murder, pushing Ju Seok to the brink. In a fit of rage, Ju Seok confronts and kills Gwang.
Yet, Gwang's spirit proves too formidable, overpowering the malevolent entity within Ju Seok and seizing control of his body.
Anticipating The Uncanny Counter Season 2 Episode 12
The forthcoming episode promises a whirlwind of challenges for our intrepid Counters.
While Gwang may have met his end, a new and even more dangerous adversary has emerged in the form of Ju Seok's possessed body. So Mun is willing to go to great lengths to stop Gwang's spirit, but the odds are stacked against him.
Release Date for The Uncanny Counter Season 2 Episode 12
Fans won't have to wait much longer to witness the electrifying conclusion of Season 2.
Episode 12 of Uncanny Counter Season 2 is scheduled to premiere on Sunday, September 3, 2023, at 9:20 PM Korean Standard Time (KST).
Where to Catch The Uncanny Counter Season 2 Episode 12
For South Korean viewers, the action unfolds on the local channel tvN, with Episode 12 of Uncanny Counter Season 2 set to air at 9:20 PM KST this Sunday. Brace yourselves for the unforgettable conclusion of this enthralling series.
Uncanny Counter Season 2 Episode 12 is sure to leave you on the edge of your seat, eagerly awaiting the next twist in the tale!"