10 Times K-Pop Artists Used Indian Culture In their Music Videos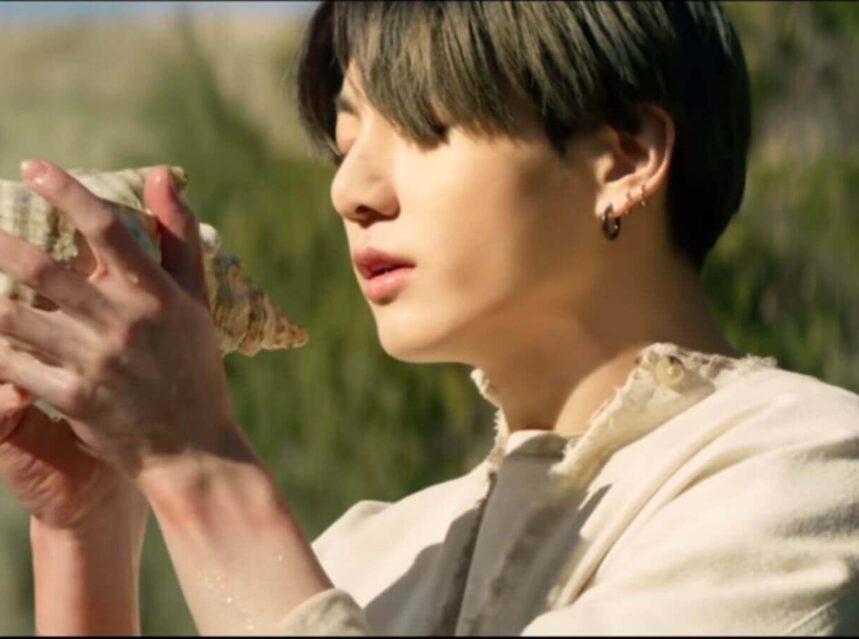 We have seen K-Pop artists talk about Indian food, dances, and Bollywood. But here is a list of 10 occasions in K-Pop music MVs where K-pop Idols using Indian culture as references. Before you lash out and call it cultural appropriation., this post/video was not intended to share the bad part of it. Just take a deep breath and enjoy this informative article.
BTS's Jungkook blowing a shank
A shank is a religious object and it is widely used in different cultures and traditions. Hindus love the use of shanks before starting any ceremony or religious prayers. In the BTS's 2020 song "ON", the video starts with Jungkook blowing a shank, which may or may not be equivalent to the start of a ceremony, which in BTS's case, is the start of the song.
CHUNG HA 청하 'Stay Tonight' concept clip 2
Chungha is a South Korean singer, and she's a solo artist. In the concept teaser of her 2020 song "Stay Tonight, " she was wearing traditional Indian accessories, especially the Tika, and other jewelry, which Indian women wear on only special occasions. While her main MV video didn't incorporate the Indian style, many publications and social media intellectuals called her out for cultural appropriation. Eventually, the small and that small clip was removed from the main channels.
(G)I-DLE wearing Bindi
(G)I-DLE is a South Korean female group consisting of six members, Jeon So-Yeon, Minnie, Seo Soo-jin, Cho Mi-Yeon, Song Yuqi, and Yeh Shu Hua. The group has been known to self-producing their records and they have been breaking K-Pop stereotypes since their establishment in 2018.
In the live performance of their song "Fire", the group was wearing Bindis, a traditional Indian accessory wore by Indian women on special religious occasions and inside the houses. Due to the act, the community called it cultural appropriation and some people disliked the behavior and some didn't care because they were too busy chilling with the songs.
Lisa's controversy with the Hindu god statue
BLACKPINK members are pretty big and everything they do affects industries, people, and cultures. In the music video for their song "How you like that", Lisa starts rapping in English, and towards the end of her part, you can see a slight sight of the statue of Hindu god Ganesha, who is considered sacred. In the video, the statue of the god was kept on the floor and this act angered the Hindu citizens and people demanded an apology from the group. As a sign of peace, BLACKPINK management removes that part but the group never apologized publicly.
2NE1 wearing Indian clothing
2NE1 a k-pop girl group that was composed of Sandara Park, Lee Chae-rin, Park Bom, and Minzy. One of the members of the group wore Indian attire consisting of Indian accessories and clothes in their music video for the song Fire. Media houses criticized her act, and she was labeled as another K-Pop artist doing cultural appropriation. Some major online magazines even called her out by publishing articles and press releases.
(G) I-DLE's Shuhua wearing henna tattoos
(G) I-DLE's youngest member, Shuhua, put on henna tattoos on hands and arms in the music video for the song LATATA'. Henna is also known as mehndi in India and it's an herbal paste associated with positive spirits and good luck and usually, Indian women use them on special occasions and marriages.
IZ*ONE member wearing Indian accessory
IZ*ONE is a 12 member group from South Korea and in one of their music videos for the song Secret Story of the Swan), some of the members wore bindis and other members wore mang Tika which is a sign of Hinduism and most worn on special occasions. People called out the group due to cultural appropriation and the group management removed the part from the video.
OH MY GIRL members wearing bindis
OH MY GIRL is a South Korean all-girl group consisting of 6 members, Arin, Binnie, Mimi, YooA, Jiho, Hyojung, Seung Hee, and JinE. During their performance on the song "Dolphin" at MAMA, some members can be seen wearing Mang Tika and bindis on their forehead. Although the live clip was mass-shared with people on the internet, today, it is deleted from almost every social media channel.
Indian Text in Alexa's video 
Alexandra Christine Schneiderman or better known by her stage name Alexa is a single K-Pop artist and she has been an influential icon despite being very young. In her video for the song BOMB, the theme of the video was a futuristic city and if you carefully look at all the backgrounds, you'll see the Hindi word, SANSAR, which translates to "the whole world". There were other clues as well though they were subtle throughout the music video.
BLACKPINK's Jenny wearing mang tika
BLACKPINK has been one of the greatest K-Pop girl bands since 2016. They have countless awards, recognition, brand deals, and fans under their belt. However, didn't see that coming when Jenny wore a mang Tika in the music video "Kill this love". Although there was only a small shot of Jenny wearing the Indian ethnic item, some people called it cultural appropriation, and some simply didn't care because the song was a blast and it broke several records on several international music platforms.
So that was it. I took some references from the video below, and a huge shoutout to Asian Mania for putting the video out on Youtube. Researching this article was difficult, and this YouTube channel helped me find groups and references quickly.
That's all for today. If you like this article, follow otakusmart – your anime and blog pop culture blog.