6 Anime Shows To Watch After Attack On Titan Season Four in 2023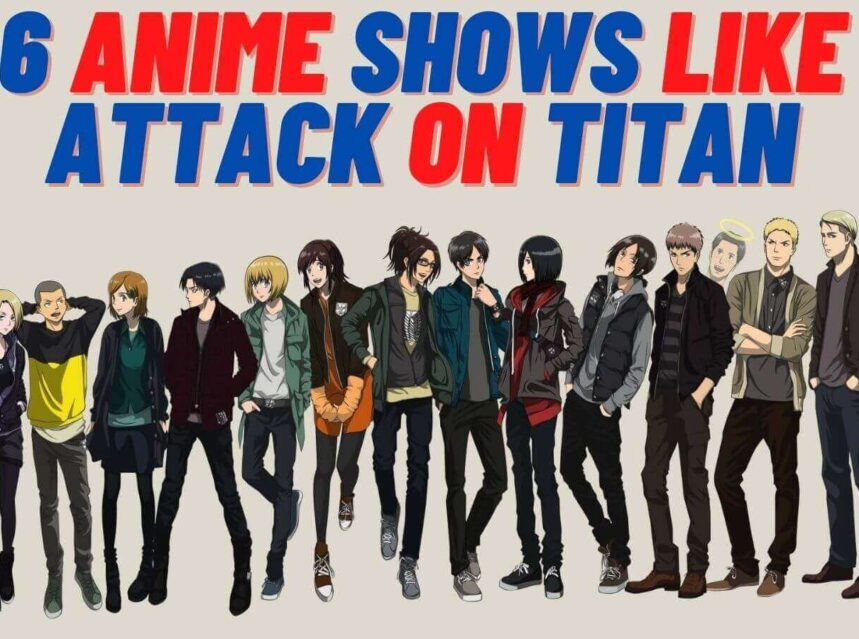 No doubt, Attack on Titan is the greatest anime in 2020 and 2021. From Hajime Isayama's storytelling skills to Mappa's animation, Attack on Titan won many hearts and it continues to wow us with the last finale season. Attack on Titan season 4 has a total of 16 episodes and it ended with a cliffhanger. Fortunately, part 2 is coming soon.
Here is a list of 6 anime shows to watch after the Attack on Titan season finale. These shows are selected by the theme, seriousness of the shows, maturity of characters, and deep storylines. Buckle your seats to add these 6 anime shows to your anime list for 2022. 
Akame ga Kill! (2014)
Akame ga Kill! Trailer (Sub)
Akame ga Kill! is the coolest anime you've never heard of. From a mature storyline to more mature action scenes, you don't want to miss this anime that shares similarity with Attack on Titan. In the story, Tatsumi, a boy who seeks adventure and money for his village, meets with the notorious group Night Raid, who are well-known for their violent behavior and hatred for the nobles. 
Tatsumi first detests their approach for resolve as Akame and her mates brutally murder the powerful nobles and other high-rank officers. But once Night Raid explains what the nobles have been doing to people like him, Tatsumi joins the Night Raid group and began hunting the nobles. The rest of the story is about revenge, grief, conflict, and death. 
Tokyo Ghoul (2014)
Tokyo Ghoul Official English Trailer
Every anime fan starts their journey with either Death Note or Tokyo Ghoul. The grim, merciless, and gore show promises to live up to its reputation with its gut-ripping scenes and captivating storylines. The protagonist Kaneki Ken accidentally triggers a human flesh-eating ghoul named Rize to eat him on his first-ever date. 
On the verge of death, Kaneki was saved from Reze and he ends up living with Reza's organs inside his body. As a result of Reze's bite and her organ transplant, Kaneki transforms into the infamous half-ghoul. Now he must find a way to retain his humanity while living his life as a blood-thirsty ghoul. 
Code Geass (2008)
Code Geass English Trailer
Code Geass is a 2008's cult-classic series about mecha robots and psychological warfare. Like Attack on Titan, Code Geass incorporates themes of kings, countries, families, god, devil, and other mature stuff. Code Geass never shy away from showing people getting brutally murdered with guns or people getting used for personal benefits. The story revolves around Lelouch and his story of revenge against his father and his ideals. 
While Mecha is only the tip of the iceberg, the real story revolves around Lelouch and his ideas about a free and democratic Japan. The show is amazing in its approach to the democratic setup that divides a futuristic Japan into two areas, of inferiors and superiors. I swear you'll love this show and the ideologies behind it.
Death Note (2006)
Death Note | OFFICIAL TRAILER
Come on, do I really need to introduce Death Note to you guys. The cult-classic show is about a smart teenager who accidentally grabs the notebook of death. Through this notebook, Light, who is a teenager, by the way, starts a new cult situation in Japan. After writing someone's name in the notebook, the person dies of a heart attack, and Light capitalizes on this notebook to eradicate criminals from the world. 
After a rapid increase in the mysterious death from around the world, L joins the police gang to find the culprit, and a war between two great minds breaks, and whoever gets their hands on each other throats wins. Death Note is a masterpiece series and a class of its own. There are only a few anime shows with such a cult-like following and a fan base that spreads across so many countries and online communities. Note, the protagonist of the show is an anti-hero and like Attack on Titan, Death Note promotes ideologies and society's conflict. 
Psycho-Pass (2012)
Psycho-Pass Season One – Official Trailer
Image Attack on Titan without Titans and in Cyberpunk settings. That's exactly what Psycho-Pass offers when it comes to storytelling and art style. Psycho-Pass took an aesthetic style approach towards animation and no doubt, it is the most pleasing anime to watch. The story revolves around the Ministry of Welfare Public Safety Bureau's Criminal Investigation Division, which uses advanced technology to determine the criminal tendencies in civilians. The system keeps society in check and stops any future criminal before he/she can commit any sort of harm. 
In the middle of all this, Akane Tsunemori joins the division, and her idea of public security and that of the Sibyl System collides and she finds herself in a conflict between what right and what's wrong. Season 1 ending is very similar to Attack on Titan as both the shows fail to draw a line between what is wrong and what is right. Akane is very similar to Reiner Braun and you'll love the series without any doubt. 
Claymore (2007)
Trailer HD | Claymore (English)
Claymore is not your average horror show. It is definitely an underrated story that needs more attention. The gloomy characters, the sad atmosphere, and a story about alienation and witches. Claymore is a slow burn that takes time to build a story. In the first few episodes, you get to meet the protagonist, who is an outcast and lives on her own. Clare is the heroine of the show and in her journey of slaying monsters, she meets a young boy named Raki. Both of the characters share a mother-child relationship while dealing with human-eating monsters called Yoma. As I said, the show takes time to build its story and like Attack on Titan, you'll get your HIGHS of betrayals and backstabbing. 
So that ends our list of the shows you need to watch after the attack on titan season 4. Otakusmart brings you the latest and trendiest news and anime recommendations every week. Bookmark us or subscribe to our mailing list.