Top 10 Most Hated K-Pop Idols In Korean Pop Music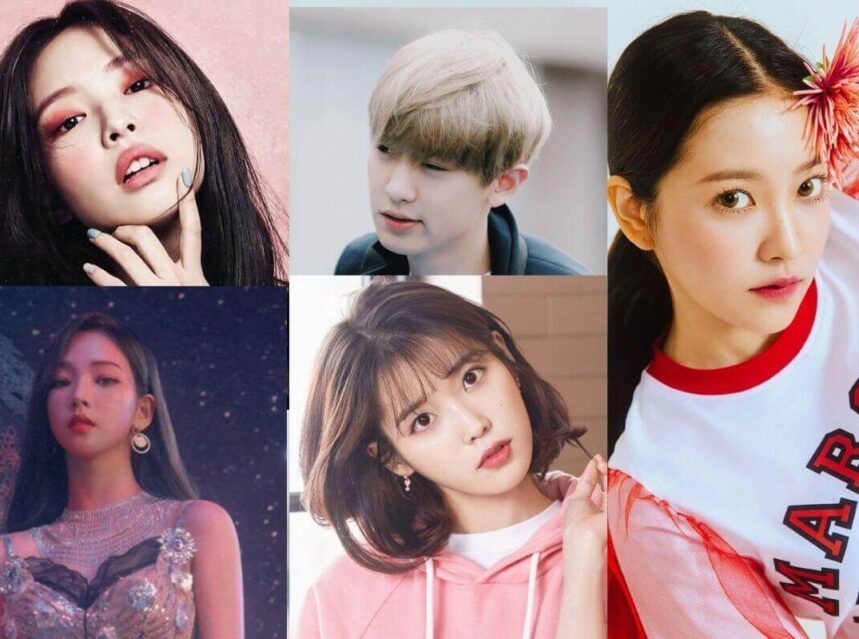 What does it take to become a K-pop Idol? It takes years of practice, dedication, and patience. In my opinion, no one deserves to get such hate after the years of hard work one has done. How unworthy and unmotivated they must have felt after reading hate comments on the entire social media.
However, people hate on someone because they just can't become what these 'Top 10 most hated K-pop Idols' already are. Undoubtedly, they envy their success and popularity, and hence they spread such undeserving hate to them.
BLACKPINK's Jennie
We all know Jennie is BlackPink's ace. She is attractive, beautiful, and exceptionally skilled. Since the beginning, fans have suspected YG Entertainment of partiality, with Jennie receiving the nicest outfits and more publicity. She was also embroiled in a scandal over her "slow dancing" and "poor attitude."
Furthermore, Jennie received a barrage of hostile comments and messages after BTS's V accidentally followed her on Instagram. She is, in my view, the most despised and adored K-pop idol. She is also despised because of her enormous celebrity.
ALSO READ: 10 Times K-Pop Artists Used Indian Culture In their Music Videos
ASTRO's Eunwoo
ASTRO is one of the most popular Kpop groups with an international following. The group consists of 6 members – MJ, JinJin, Cha Eunwoo, Moonbin, Rocky, and Sanha. Among them, Eunwoo gets a lot of hate from fandoms of other groups and ASTRO's AROHA.
I don't think it's fair that Eunwoo receives hate. For being the most favored member of ASTRO, he receives unjustified vitriol. How can someone be despised just because of their attractiveness?
ALSO READ: 7 Beauty And Skin Care Products Used by BTS's Jungkook
EXO's Kai
EXO is another popular group with several hit songs under their belt. The group first debuted in 2012 with the song "Mama" and hasn't looked back since then. However, the group has multiple members who receive hate for various reasons.
Among them, Kai is known to be the most sexualized member of EXO. He gets a ton of hate because of his dating scandals. His most popular dating scandal is with BLACKPINK'S Jennie and f(x)'s Krystal.
ALSO READ: K-Pop apps in 2022 that every K-Pop fan need right now
EXO's Chanyeol
When it comes to singing, writing, dancing, or playing numerous instruments, Chanyeol is one of EXO's most skilled members. But he also came out on top in the poll titled "Which member do you dislike the most?" I'm sure you're wracking your brains for at least a few reasons to despise him.
The fact that he compared Kai's complexion to black coffee is the first reason why anti-fans despise him. Anti-fans also accused him of being arrogant and chastised him for it. Although I believe it is reasonably common for males to make fun of one other, some individuals refuse to believe it.
ALSO READ: 10 most popular K-Pop groups with an International fan following (2022)
(G)-IDLE's Soyeon
Soyeon, like Chanyeol, is a gifted individual. Soyeon has been subjected to a great deal of unwarranted venom. She was dubbed the group's 'greedy leader' since she didn't include all the members in the production process and simply handed them the finished product.
Many people were irritated by Soyeon's increasing line count. Because most of the songs she created were repetitious, she was criticized for them. She also became embroiled in a bullying incident. 'Lame' and 'ugly' were used to describe her.
ALSO READ: 10 Oldest K- Pop Idols in Korean Pop Music (2022)
Aespa's Karina
While a pre-debut star's early exposure might help them develop fame, as Nayeon did with Jinyoung (GOT7), things didn't work out for Karina. She was so despised that she nearly topped the list of most despised idols even before her formal debut as an Aespa member.
Few individuals have even researched how Karina became the most despised trainee in K-pop history. It all started when her communications with her pals were released. She labeled BTS's RM and Jimin ugly, showed her unhappiness with her employer, and divulged some Aespa confidential information.
Over time, the hatred became stronger. She was also involved in several scandals, including bullying. She got biased by SM entertainment company.
ALSO READ: BTS is having a world tour in 2022, while TXT and ENHYPEN are preparing for offline concerts
SNSD Taeyeon
Are you a long-time lover of K-pop? If you're a long-time K-pop fan, you're probably well aware of the level of animosity directed towards Taeyeon. Like a storm, a surge of hostility and condemnation washed over her. Even in 2019, she faced a lot of backlashes. On social media, an anti-fan also posted about her being a 'problem' with Taeyeon.
She finished by stating that she still dislikes her. The most common reason for attacking Taeyeon was her success and popularity. Her beauty and brilliance are undeniable. People began to loathe her from the beginning of her career when she gained a lot of attention and joined the SNSD sub-unit.
She was in a good mood. She was blamed for having pushed Jessica from the lineup. She was then rumored to have been dating Baekhyun and referred to her as a 'sly fox.'
ALSO READ: List for the top 10 most popular K-pop idols in 2022
Red Velvet Yeri
While it's often seen that the group's maknae is the most favorite and cherished of all the members, things were entirely different for Red Velvet's Yeri. She was the last one to join the group when the rest of the members had already established their fanbase.
Red Velvet was already a whole package even before Yeri joined the group. Wendy is the vocal goddess, Seulgi is the dancer, Irene is the visual of the group, and Joy is the persona of various variety shows. People criticized her for her dancing skills and called her 'tone-deaf.' She was also body-shamed by many people.
ALSO READ: Top 15 K Dramas To Watch If You like Comedy And Romance
IU
IU is an incredibly gifted solo artist. Her voice has an angelic quality to it. After her controversy with Super Junior's Eunhyuk, IU's reputation was tarnished, and she began to get backlash for being Jungkook's ideal type. Jungkook is a major IU fan, as everyone knows.
This is something he's stated on many different variety shows. Even though IU does not appear to have a romantic relationship with him, numerous ARMYs and BLINKs still despise her.
ALSO READ: Why is '100 Days My Prince' one of the highest-rated dramas in Korea?
TWICE'S Tzuyu
TWICE is one of the strongest girl groups in Korean pop music history. The group survived all the ups and downs and is still together making hits after hits. TWICE has 9 members – Jihyo, Nayeon, Jeongyeon, Momo, Sana, Mina, Dahyun, Chaeyoung, and Tzuyu.
Among all the members, Tzuyu is the most highly chastised in TWICE for being the most visually appealing and for not having the best voice or lack of emotion on stage, but it doesn't mean she isn't a brilliant idol who isn't there for her lovely looks.
ALSO READ: Idol Drama List: 35 Korean Dramas Featuring Your Favorite K-Pop Idols