The Best Kawaii Anime Shows That Will Soften Your Heart (2023)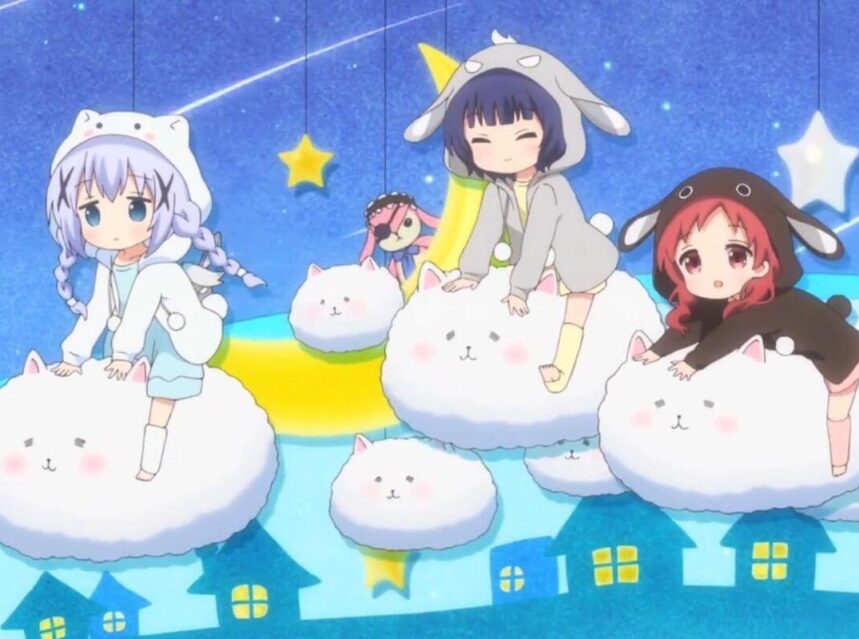 Binge-watching and enjoying anime shows out of the profusion given have had the number of anime stans increased in recent times.
Availability of multiple categories of anime series to choose from has given major steps up and fan-following for action, horror, thrillers, tragic shows.
Moreover, the top-rated anime shows belong to the listing in action thrillers, comedy, and horror. But are you missing something?
How about some sweet, soft treat to the hardened core, which packs a tremendous love for riveting and dreadful shows.
Keeping that in mind, let us list out the top 5 Kawai Anime Shows and Series that will for sure melt you inside.
Kinmoza (No. of Episodes – 12)
The Storyline follows a Japanese teen girl named Shinobu Omiya who used to reside in a homestay in the UK at a young age.
On a sudden occasion, she receives a letter from Alice Craterlet, the UK host family's daughter, and she happens to be the long-lost childhood friend of Shinobu stating she is soon to arrive in Japan.
This leads the viewers to a glittery plot of the joyful happenings in their lives with high elements of comedy between the Japanese and British culture students.
Barakamon (No. of Episodes – 12)
The story kicks off at the start after Handa Seishu, a young stunning calligraphy writer is sent to a small island as a punishment for hitting a famous Calligrapher.
Handa, being completely unaware of the new surroundings and environment as he never explored anything out of the city in the first place, finds it pretty hard to blend amongst the new residence and neighborhood.
Despite the hardships and difficulties he faces, the show portrays it as sheer innocence and blissful comedy to rejuvenate the audience with pure moments of wholesomeness and laughter.
Is the order a Rabbit? (No. of episodes – 12)
This show opens up and follows the life story of a girl in the search for a boarding house because of her shifting to a different school for the forthcoming semester, which she happens to find by accident.
The Boarding house is named "Rabbit House" which is also a Coffee Shop.
For the repayment of favor, our girl Cocoa starts working along with the rest of the characters Chino, Chiya, Rize, and Syaro who are from the different coffee shops.
A character named Tippy; a rabbit-shaped Mascot accompanies them as well.
Himoutu Umaru-Chan (No. of episodes – 12)
This Cute Series opens up by introducing a bright girl student Umaru Doma who is in high school.
She is presented as a perfect mix of a good look, intelligence, and a container of multiple talents when she's at school.
But she's reverted to a whole different look when she reaches home, where she lives with her elder brother – Taihei.
On one hand, where she's ready to take responsibility for all the academic tasks, the other hand depicts that she's completely dependent on her brother while she lays down playing video games and eating a lot of junk in a chibi layout.
School Babysitters (No. of episodes – 13)
Making its way to the very top is by far amongst the top-rated, highly adorable anime shows of all time, School Babysitters, which works as a medicine to cure any form of pain in my opinion.
The story is about a Teen boy Ryuichi who has a little toddler brother named Kotaro; after losing their parents in an unfortunate plane crash, they happen to live with the chairwoman of Morinomiya Academy.
A place where Ryuichi is a student and a member of the School's Babysitters club where all the toddlers of the teachers come along and play all day long.
As far as the plot, the show is meant for grown-ups and adults which teaches about the life of parenting and handling the little souls.
It has the Genre mix of comic and pure cuteness and life, which soothes viewers' souls and acts as a therapy.
Also Read:
Top 10 Interesting Anime Characters With Blue Hair
Anime Names Inspired By Greek Mythology
12 Must Watch Magical Girl Anime Of All Time