Pervert or Hentai is a synonym of debauchee, deviant, degenerate, and the like. Generally speaking, they are horrible people, which is not wrong per se unless… Yes, there are some anime perverts we all just hate to love. Don't get the wrong idea, we are not here to promote sexuality or obscene behavior but to introduce some hentai who might not be that bad. It's for you to judge after all.
Jiraiya from Naruto
There cannot be a better person than Jiraiya also known as the Pervy Sage to be the poster boy of loveable perverts. He has a cordial temperament with lively wits. He pretends to be selfish and mean but is the ultimate softie who is not shy to make others laugh through his antics. Despite his eccentricities, he is a distinguished shinobi. In spite of his caliber, he is a self-proclaimed first-rate pervert. His favorite hobby is peeping on bathing women in spite of being caught numerous times. Overall, he might be superfluous but has a deep wanting to bring lasting peace to the world.
Master Roshi from Dragon Ball Series
A martial arts master who imagines himself as a fashionable young man is one lecherous being. He is a kind-hearted and wise old man standing true to the stereotype of a dirty old man. Master Roshi lives alone on a beach and has quite some hobbies in addition to running the Turtle School. He enjoys reading, watching television, video games, and surfing adult sites on the internet. In spite of his carefree attitude, he is serious about training the students and goes to the lengths of disguising himself to participate in the World Martial Arts Tournament to continue their interest in martial arts.
Ayame Kajou from Shimoneta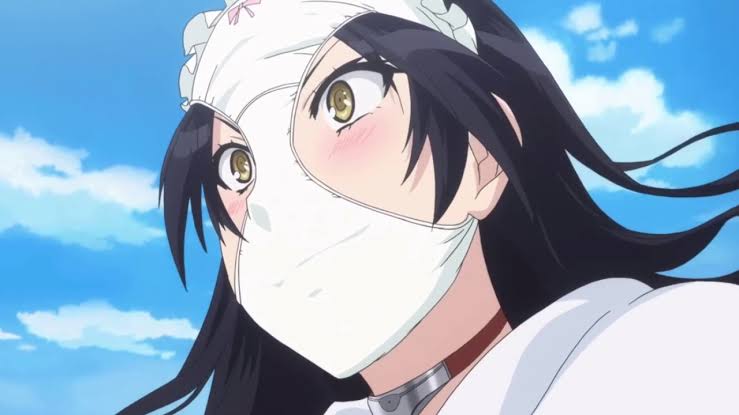 Let's not be sexist enough to assume that only men can be perverts when we have someone like Ayame Kajou. She is the founder of SOX and strongly stands for the beliefs going to great extents of circulating pornographic pamphlets and defying Decency Police. Ayame has a fondness for dirty jokes which she loves to crack even in inappropriate situations. She created Blue Snow who is the ultimate dirty joke terrorist wearing panties on her face to stand against the moral policing of the Japanese government.
Chizuru Minamoto from Kanokon
Chizuru is a 400-year-old kitsune- a fox spirit who disguises in a human form. She is the yandere of the series who is after the protagonist Kouta Oyamada. In fact, she wants to enter into a "relationship of sin" with him which implies her willingness to take Kouta's virginity. Not only does she make constant sexual suggestions towards Kouta but indulges in obscene behavior even in public.
Sanji from One Piece
Sanji is a calm and composed character who is intuitive and intelligent. His personality along with his smoking habit gives off the vibe of a quiet, cool character. In spite of this, his habit of constantly hitting on women has made him a bit unpopular with fans. Overall, his passion for cooking and exceptional fighting style has made him a well-loved character.
Hyoudou Issei from High School DxD
Notorious for being part of the perverted trio of Kuoh Academy, his reputation certainly precedes him. Not in a good way though. His dream of becoming a Harem King with an exclusive harem of his own certainly hints towards it. Though he seems irredeemable at first glance, he has the courage, selflessness, and perseverance to go to great extents to protect the ones he loves. His kindness and loyalty towards his friends as well as rivals have brought positive changes in them.
Ako and Riko Suminoe from Kissxsis
Though the premise of this show may not be easily digestible for most people, it has the perfect duo of perverted twins. Here, the pair of twins Ako and Riko are explicitly after their stepbrother Keita Suminoe with less than pure intentions. Ako has a pleasant demeanor along with a homely side as opposed to Riko who is shy and sporty. In spite of the differences, both the sisters are equally infatuated with Keito and leave no stone unturned to make a move. Riko is more private about it but the intentions of both of them are the same.
Momo Belia Deviluke from To LOVE Ru
At first glance, she is a cute, innocent, loveable character but hides a more deviant side. Momo's perverted side is reserved for Rito Yuuki whom she fantasizes about even with the other girls. In fact, she is also turned on by imagining him with other women though she herself has sexual intents for him. She believes he is more sexually active and physical while he is asleep, paving a way for her recurring intrusions on his bed. In spite of her Harem Plan and occasional selfish behavior, she is an adorable character.
Meliodas from Nanatsu no Taizai
Infamous for being an incorrigible pervert, hardly anyone can contest that Meliodas has another side which is fearless and composed. Irrespective of representing wrath, he comes off as a cool and calm personality on the whole. In spite of his frequent misdemeanour with Elizabeth, it is obvious that his perversion is exclusive for her. This cannot be a suitable defence for him but his strong sense of justice and happy go lucky nature makes him pretty likeable. Meliodas can be one pervert that you won't regret to love.
Taurus and Loke from Fairy Tail
Taurus and Loke are two celestial spirits in contract with Lucy Heartfilia. Tauras is jovial and perverted spirit who is obsessed with protecting Lucy and her perfect body. He has a masochistic side as well which was apparent when he offered himself for punishment when Erza was punishing others. Loke is a certified playboy who is constantly flirting with women around him and had his own flock of females following him around during the initial episodes. In spite of these tendencies, both are sincerely loyal to Lucy.
Also Read: